Today it was announced that Pike River Coal does not have the cash to pay compensation to the Families of the men who died in the mine they operated in a dangerously unsafe manner for years, because company bosses have already spent the money on their legal fees, according to one of the receivers.
And that's not the only thing
they, and the directors of the company who took over the mine,
Solid Energy, have been spending it on either
. The Families want their men back not just some cheap payoff, what an absolute insult.
The Families and the men in the mine have been brushed aside with contempt by the vultures who've been picking over the carcass of Pike River Coal. The role of the Department of Labour has never been scrutinised - the Minister resigned her portfolio because of the liability of herself and the Department and the Ministry so it seems that the Families should instruct the police to lay charges of of criminal negligence and instruct a lawyer forthwith to lay civil charges against the DoL.
"Let's let Solid Energy buy the mine, they'll get the men out" said certain people - self appointed community advocates, etc, well let's look at how that's worked out. CEO Don Elder, married to "political commentator" ( - nice work if you can get it - who pays her how much to be a "political commentator"?) when you look at what Don Elder's been raking in (see links above, para 2).
In April 2013
Clayton Cosgrove went to the Ombudsmen
regarding the refusal of Solid Energy to respond to OIA requests - because staff responsible for responding to it were on holiday - Cosgrove said Solid Energy was making a laughing stock of the Ministry and that he was acting as a last resort because requests for information were being blocked at every turn.
Solid Energy has debts of four hundred million dollars and is facing financial ruin unless it can negotiate a rescue package with Treasury and the banks (source at link in paragraph above). It's also been
spending like there's no tomorrow on luxuries
and holidays etc for its directors.
Meanwhile Conman Key has been
blatantly manipulating the stock market
and helping his mates thieve from Kiwi 'mum and dad investors' by claiming the money was going to go to schools and hospitals, when all the while the plan was to line his pockets and his mates' pockets!
Conman Key has been caught out lying again
, after earlier
denying that plans have already been made
for the as yet unannounced bail out of Solid Energy and reports are now emerging about the outrageous culture of extravagance perpetrated by these pigs - feasting at the trough while twenty nine families grieve, and their men lay somewhere inside the death trap that murdered them by putting money before safe practice, and they are forbidden to even get near the mine to pay their respects. Instead, each Family has a stone, a big boulder. Ironic? - or symbolic of the heart of Conman Key and his greedy, deceitful mates?
Greymouth District Court judge Jane Farish ordered PRC to pay $110,000 in reparation to each of the grieving families and two survivors of the West Coast mine explosion - a total of $3.41m.
She also fined the company a total of $760,000 over nine charges.
Receiver John Fisk said it was impossible for PRC to comply with that order. Judge Jane Farrish refused to fall for that nonsense and expressed the view of the Court perfectly clearly in that respect.
Only $156,000 - or about $5380 per family - of its $2 million liability insurance cover was still available for compensation payments, said Fisk.
The other $1.84 million had been used by company staff and directors for their legal fees, Mr Fisk said.
"There's a cold hard sort of commercial and legal reality as to what we're dealing with here as receivers and then the tragic situation of the death of 29 men in a workplace accident.
That does come into stark contrast in these situations."
Mr Fisk said he did not know what Judge Farish meant when she said there was the "means" for reparation payments to be made. - What arrant nonsense! Of course he does!
"I'm not sure what she means by that because it can't come from the company so I'm at a loss to know where she thought that could be paid from.
"Unfortunately they won't be able to get anything out of the company." - No - because
the pigs and vultures are still feeding
!
Pike River Coal was valued at $400 million before the mine explosion on November 19, 2010.
It has about $500,000 in cash and assets remaining, but it is legally bound to pay that money to its largest secured creditor New Zealand Oil & Gas (NZOG).
Families spokesman Bernie Monk said today it was "morally wrong'' that secured creditors were paid first.
Although the families had received financial support, that help had been divided among 55 different families.
"The impact statements show they (Pike) didn't care two hoots about staff."
Mr Monk said he had written to Pike's former Indian directors, but they had "not had the guts to write back".
He said the directors were not fit to run the company.
"It's laughable to hear NZ Oil and Gas made so many millions last year. It's not the end of it."
Judge Farish indicated NZOG was in a position to pay reparation. She also mentioned former directors' private insurance policies.
Last August, NZ Oil and Gas posted a full-year profit of $19.9m.
"Good on the judge," Engineering, Printing and Manufacturing Union assistant national secretary Ged O'Connell said immediately after sentencing.
"Pike River Coal's directors should not be able to hide behind shabby legal structures and carry on as if nothing ever happened. It's time we had corporate manslaughter laws and personal liability for directors so they can be held accountable for their actions.''
Receivers were appointed in mid-December 2010 - just two weeks after the mine exploded, claiming 29 lives.
Pike River Coal had invested $290m in the mine operation. The Bank of New Zealand was a first ranking secured creditor, owed about $23.2m. In 2011, the receivers said they would give full payouts to the 243 unsecured creditors owed up to $10,000 each.
Grey District Mayor Tony Kokshoorn said self-regulation of health and safety lit the fuse of the disaster, fuelled by the company's "greed and complacency".
West Coast-based Green Party MP Kevin Hague said it was "a travesty of justice" that the families could end up with as little as $5000 each.
He said Pike River's $2m liability insurance cover was "totally inadequate" for a high-risk operation and the families had been left with "crumbs" after everyone else had been paid.
The crippled mine was last year sold to Solid Energy for $7.5m.
Mr Fisk said today it received $80m in an insurance claim, which was partly used to pay unsecured creditors. The rest was used to repay secured debenture holders in order of priority.
There was money in the bank account when the receivers were called in, mainly advances from NZOG. Some was used to stabilise the mine, and the tunnel reclamation plan.
The $7.5m from Solid Energy was also used to pay secured creditors.
When the board put itself into receivership, it said in a statement: "The only prudent action we could take was to approach our major creditors and advise them we were unlikely to be able to repay our loans at the end of the standstill period that NZOG and BNZ offered us after the 19th of November.''
Former Pike River chairman John Dow was not answering the phone at his Nelson home this morning, or his cellphone. (-
Source: Hayden Donnell, NZ Herald, Laura Mills, Greymouth Star, 5 July 2013
)
It's been revealed that
Conman Key and his government TOLD Solid Energy to borrow
- after
lying about that too
and
arrogantly denying it
- manipulating the stock market - right before the controversial float of Mighty River.
More and more lies are emerging daily,
indicating the real asset sales agenda
and
There is more on these matters at
this link
and
this one
, and this site will certainly be updated with reports on them and Transparency NZ will be working hard to (a) recover the bodies of the twenty nine men - or at least make an honest attempt to do the decent thing - and provide some REAL justice for the Families of these men!; (b) hold the proper people accountable instead of the ritual sacrifice of a couple of unwitting scapegoats; and (c) ensure this never happens again.(and that can't happen until (b) happens anyway).
Meanwhile, all this time, years later, the Families can't even get near the mine where their men are, because of this stinking, and corrupt cover up.
Neville Rockhouse is one of the scapegoats
.
Conman Key
has lied, and lied,
and lied
, and what was revealed at the commission of inquiry about the role of the Department of Labour - or lack of a role - and what happens when you let industry and commercial interests regulate themselves should have been a lesson, but recent events prove otherwise.
The Trust set up for the families of the Pike River miners' Families, is at this link
.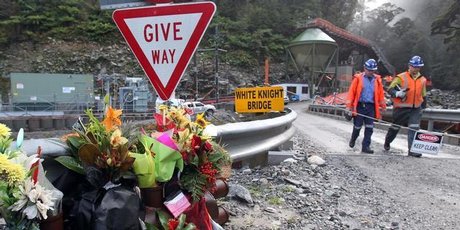 (Source: Hayden Donnell, NZ Herald, Laura Mills, Greymouth Star, 5 July 2013)
Transparency NZ will continue to protest at parliament and the Court until justice is done, and good on Judge Jane Farrish for dishing out a bit of justice, and having the integrity to tell the guilty parties that she will not tolerate their deception.
The day is soon approaching when we file action in the Courts for some REAL justice for the Families of the men in the Pike River mine - and all other decent hard working New Zealand taxpayers for that matter - it's coming very soon, and it's long overdue - we don't pay taxes to be governed like this!